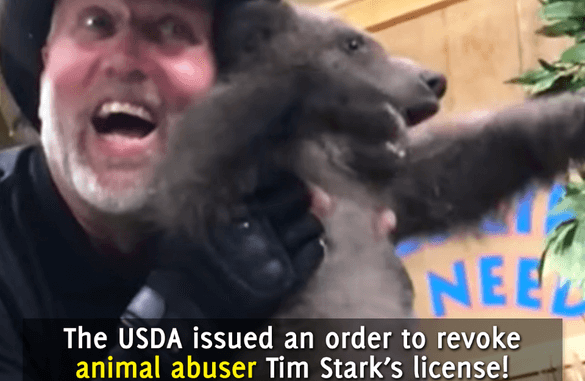 After years of PETA action, another animal abuser is out of business. The U.S. Department of Agriculture (USDA) just permanently revoked notorious animal exhibitor Tim Stark's license and ordered him and his sham "sanctuary," Wildlife in Need, to pay a total of $340,000 in civil penalties—$40,000 of which was assessed against Stark individually.
Stark is well known to animal advocates and the USDA. The agency filed an administrative lawsuit against Wildlife in Need (based in Charlestown, Indiana), alleging more than 120 willful violations of the federal Animal Welfare Act between 2012 and 2016. These include when Stark instructed patrons to hit big-cat cubs during "Tiger Baby Playtime" events, swung and tossed monkeys by their tails and hips during public encounters, and bludgeoned a leopard to death with a baseball bat.
The court also found that he went months without an attending veterinarian and provided a USDA inspector with an official document bearing the forged signature of a veterinarian who hadn't been the facility's attending vet in years. Numerous animals died at the facility of preventable causes, including a kangaroo and three otters who were denied veterinary care, big-cat cubs who were declawed and later died of their injuries, and 41 animals who died in a fire.
"The USDA has effectively cut Stark off at the knees, preventing him from continuing to torment and exploit vulnerable lemurs, sloths, dogs, and other animals for a quick buck," says PETA Foundation Director of Captive Animal Law Enforcement Brittany Peet. "PETA looks forward to seeing this terrible place shut down and the animals moved to reputable facilities where they'll never again be used for photo ops."
The ruling is a historic victory for animals. PETA is pressing forward with our pending Endangered Species Act (ESA) lawsuit against Stark and Wildlife in Need, aiming to get endangered and threatened animals out of his hands and into an accredited, reputable sanctuary.
PETA won a preliminary injunction early in the case that prevents Stark from carrying out abusive activities—including declawing big cats, prematurely separating cubs from their mothers without medical necessity, and holding "Tiger Baby Playtime" events, in which cubs can be subjected to hours of direct contact with the public—while the case is being decided. A second PETA lawsuit against the sham sanctuary's attending veterinarian resulted in a first-of-its-kind agreed-upon ruling holding that declawing ESA-protected big cats without medical necessity violates the ESA.
Source: PETA