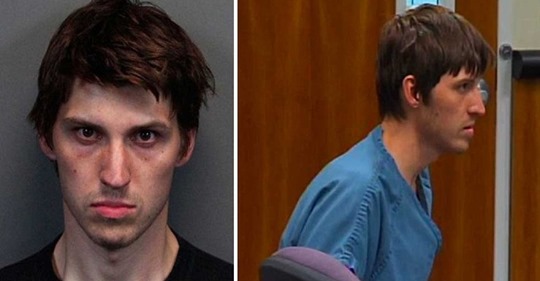 They say to never judge a book by its cover, but one look at Jason Brown and you know you're staring into the eyes of a monster. Thankfully this one will be behind bars for a very long time for his heinous crimes.
Washoe District Judge Elliott Sattler handed the 25-year-old Reno man the maximum sentence – four years on each count of torturing and dismembering seven dogs.
Brown was arrested in July 2014 after a Super 8 Motel maid found a dog's head in the bathtub. The room was covered in bloodstains and dog limbs. Police arrived to find skins in the room and severed Chihuahua heads in the refrigerator.
For days before the gruesome discovery, Brown refused to allow staff in to clean the room. He wasn't present when the employee found the dogs' remains, but immediately ran away when he returned and realized he'd been exposed.
Police caught up and arrested him. He was accused of five felony counts of willful torture of an animal and one count of possession of a controlled substance (methamphetamine).
Brown recorded the torture, and though he claimed to have had no recollection of the past two to three weeks, a close family friend testified that Brown said he was feeling rage, had killed a friend's dog, and that killing dogs made him feel high.
He purchased dogs through Craigslist. One woman who sold him a puppy was told by Brown that he wanted the dog for hunting small ducks, and that if things worked out, he'd be back for more.
Brown pleaded no contest to the final charges of seven counts of animal torture and murder, due to his inability to recall the events, as he was high on meth, heroin, and cocaine.
Neither Judge Sattler nor Washoe County District Attorney Chris Hicks showed him any leniency.
"When you get to the level of those videos that he made, he made to reveal himself. It takes it to a whole other level," Hicks said. "And, so, you hate to think that there's these kinds of people in the world, but there are."
Several of the people who had sold their dogs to Brown cried as the judge was shown videos of him torturing and skinning their dogs. Brown refused to watch.
"I cannot explain the grief I felt for this horrible situation. I no longer had control of myself. It's sickening to hear these things and realize it's me."
The former psychology major seemed like a normal, well-adjusted young man to the people selling their dogs. But family members say his drug addictions are longstanding, and that they've spent over $100,000 on treatment. One psychiatrist said his addiction is the worst he's ever seen.
Judge Sattler did not allow the possibility of a drug blackout to let Brown off the hook. He sentenced the man to 28 years in prison.
"Those images I watched, I will never forget. The cruelty, the sadism you exhibited is simply shocking," Sattler said. "The part that frightened me most about the videos is that you produced them in the first place. That tells me you wanted to go back and watch them again — a trophy, if you will, of your behavior. You watched with friends and laughed."
Source: save-animals.info